"Surrender"
(Music: "Surrender" by Elvis Presley)
March 20, 1961 - April 2, 1961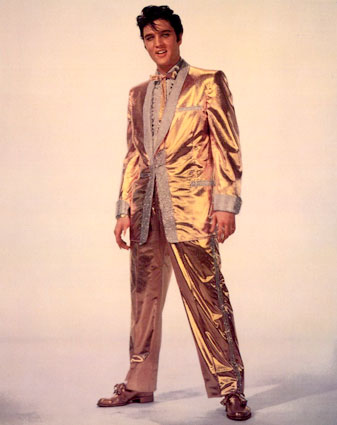 "It's Now or Never" was Elvis Presley's biggest-selling single, so it was no surprise that he turned to another beginning-of-the-century Ital­ian song for his 15th number one single. "Surrender" was based on "Torna a Sorrento" ("Come Back to Sorrento"), written in 1911 by Ernesto and B. G. de Curtis. Doc Pomus and Mort Shuman wrote Eng­lish lyrics and the song entered the Hot 100 at number 24 on February 20, 1961. It became the highest new entry on the Hot 100 of any Elvis song to date, beating the record set by "Are You Lonesome Tonight."
Elvis returned to RCA's Nashville studios on October 30 and 31, after recording in Hollywood for six months. "Surrender" was the only secular song recorded during these two days; the rest of the time was devoted to cutting 13 gospel songs. Twelve of these were released on the religious album "His Hand in Mine" in December, 1960. "Crying in the Chapel" was held back until 1965, when it broke a dry spell and went to number three.
While "Surrender" was number one, Elvis appeared live in concert in Hawaii --- his final live performance for the next seven years. It was Col. Tom Parker's plan to have Elvis release three films a year with accom­panying soundtrack albums and singles, but to stay off the live cir­cuit, so as to keep the public hungry for Elvis.
On February 25, Elvis did a bene­fit concert in his hometown and raised $51,000 for the Memphis Char­ities. Exactly one month later, he did another charity show, this time at Bloch Arena in Pearl Harbor to raise money for the USS Arizona Memorial Fund. Jimmy Stewart and Minnie Pearl also appeared and they raised $53,000. Elvis sang 17 songs, conclud­ing with "Hound Dog." He wouldn't sing another live note on stage until 1968.
While in Hawaii, Elvis shot some footage for his next movie, originally titled Hawaii Beach Boy. By the time it was released on November 14, 1961, the title had been changed to Blue Hawaii. Angela Lansbury played Elvis' domineering mother who wants him to go into the family pineapple business instead of marry­ing his girlfriend, played by Joan Blackman.
It was Elvis' eighth movie and set the pattern for most of the films that would follow. The plot was light­weight and the songs were plentiful: 14 in all, including "Can't Help Fall­ing in Love." Like its predecessor, "(Marie's the Name) His Latest Flame" backed with "Little Sister," it failed to go to number one but made the top five. When Elvis finally returned to performing, "Can't Help Falling in Love" replaced "Hound Dog" as his finale.
Reprinted from The Billboard Book of Number 1 Hits, copyright © 2003 by Fred Bronson.